Meet Our Donors
We thank all our planned-gift donors for their generous support. Here are some of their stories.
Bruce and Mary Anne Larsen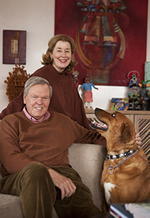 "The Foundation's knowledge of worthwhile organizations and programs has helped us become better donors. The Foundation creates a sense of community by joining us with others who help nonprofits, so we've included the Foundation in our estate planning. Even after we're gone, and we can no longer advise our philanthropy, we trust the Foundation to carry on good works."
.